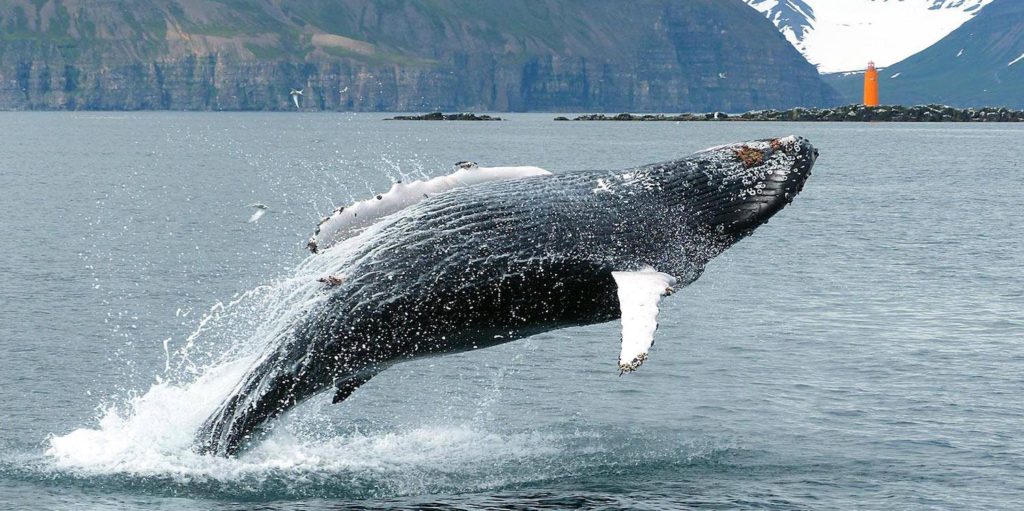 Thank you for choosing Whale Watching Iceland Tours from Hauganes!

We look forward to seeing you and bringing you closer to the whales that live in our neighbourhood!
By booking online you'll receive a 10% discount of your booking fee when you check out!
Departures in 2019
Please select here between our classic Whale Watching + Sea Angling (includes sea angling at the end of tour) and our 100% Whale Waching tour (at 10.30 and 14.30, no sea angling included).
1/5 – 10/5
11/5 -31/5
1/6 – 30/6
1/7 – 25/8
26/8 – 10/9
11/9 – 10/10
11/10 – 31/10

13:30

9:30

13:30

9:30

13:30

17:00

9:30




10:30




13:30




14:30




17:00

9:30

13:30

17:00

9:30

13:30

13:30
Whale Watching – includes Sea Angling at the end of tour
100% Whale Watching – Whale watching the whole time – no Sea Angling
All tours are 2,5-3 hrs long.
Book your 2019 tour now!
Loading…
If you have any problem booking please call us at +354 867 0000 or send us an email to whales@whales.is and we will help you out. We accept VISA and MASTERCARD.
Your 10% online booking discount will be calculated into the price when you check out.
Prices
Price: 9.990 ISK per person
4.955 ISK for kids 7-15 years old
Free for kids under 7 years.

By booking on-line you will enjoy a 10% booking discount!
Prices include 11% VAT. Included: 2-3 hour guided tour, coffee and refreshments, fishing rods and warm overalls. Our boats have free open WiFi.
Booking terms:
Weather and sea conditions
Tours are dependent on weather and sea conditions. For your safety and comfort, we reserve the right to change or cancel departures, even with short notice, should weather or other conditions change. In case of cancellations due to weather, customers receive a full refund or can change their departure depending on availability.
Cancellation policy:
Reservations can be cancelled 24 hrs prior to departure without penalty. Cancellations received less than 24 hrs prior to departure will be charged full price.
Location
Whale Watching Hauganes is located in a small fishing village called Hauganes on the west coast of Eyjafjörður bay in northeast Iceland, just 30 min drive north of Akureyri on road 82.
Please arrive in Hauganes at least 30 minutes before departure.
We offer warm extra clothing, but we still recommend that passengers bring their own warm and waterproof clothes.
We are located at approx. 30 min drive from Akureyri in the direction towards Dalvík. When driving from Akureyri our intersection to the right is clearly marked with flags and a mockup whale tail.