Dear friends and fellow whale lovers!
Due to the COVID-19 pandemic we have decided to cease our activities until June 15th the earliest. All tours before that date have therefore been suspended.
Soon the summer will be upon us and our lovely Eyjafjörður will gradually fill with life; squawking birds, lively fish and of course beautiful whales such as Humpback Whales, Minke Whales, Harbour Porpoises, Dolphins and even Blue Whales and Orca Whales (Killer Whales).
Even though we are currently all going through a global crisis we will stand strong, and before long we will all commence venturing the world again - enjoying every aspect of what our breathtaking nature and environment has to offer. When the skies eventually clear the whales will be waiting for you here close to Hauganes, breaching, pectoral slapping, spy hopping and tail slapping. It will be worth the wait!
See you soon and take care.
All the best from the Whale Watching Hauganes team.
Welcome Whale Watching Hauganes! We sail from the heart of Eyjafjordur bay in North Iceland, from our little village of Hauganes. The whole Eyjafjordur bay is our playground all year but summertime is the most exciting when the bay is full of whales!
Our Whale Watching tours have been operating since 1993 but we first started looking out for whales in our neighborhood in 1989, before anyone else in Iceland. That makes us one of the oldest operating whale watching company in Iceland. We've had the same owners and same captains from the start!
Our main goal is that you enjoy the tour! In 2017 we had 100% viewing success on our Whale Watching tours -sightings on every single tour! They do love our little bay.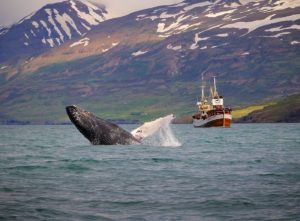 The good old whale watching tour with a little Sea Angling at the end of the tour. The ocean around Iceland and in Eyjafjordur has a variety of quality fish and we, as experienced fishermen, can almost guarantee that you'll get a catch if you try! And of course you'll get to take it with you!
Please arrive in Hauganes at least 30 minutes before departure.
We offer warm extra clothing, but we still recommend that passengers bring their own warm and waterproof clothes.