This tour is a 100% Whale Watching tour meaning we will spend the whole time watching and observing the whales with
no Sea Angling
included. Our surroundings is the beautiful Eyjafjörður bay which has in the recent years been the habitat of humpback whales, mink whales, dolphins and more species.
Book the 100% Whale Watching tour:
Use our exclusive promo code 10OFF when booking online and you'll receive a 10% discount!

This is a fully guided tour and we offer coffee and homemade pastries.
Humpback whales, minke whales, dolphins and porpoises are commonly spotted during these popular tours.
Prices
Price: 10.990 ISK per person
5.495 ISK for kids 7-15 years old
Free for kids under 7 years.

Prices include 11% VAT. Included: 2,5-3* hour guided tour, coffee and refreshments, and warm overalls. Our boats have free open WiFi.
*With a margin of approx. 30 min depending on our success.
Booking terms:
Weather and sea conditions
Tours are dependent on weather and sea conditions. For your safety and comfort, we reserve the right to change or cancel departures, even with short notice, should weather or other conditions change. In case of cancellations due to weather, customers receive a full refund or can change their departure depending on availability.
Cancellation policy:
Reservations can be cancelled 24 hrs prior to departure without penalty. Cancellations received less than 24 hrs prior to departure will be charged full price.If you have any problem regarding your booking please call us at +354 867 0000 or send us an email to whales@whales.is and we will help you out.
Location
Whale Watching Hauganes is located in a small fishing village called Hauganes on the west coast of Eyjafjörður bay in northeast Iceland, just 30 min drive north of Akureyri on road 82.
Please arrive in Hauganes at least 30 minutes before departure.
We offer warm extra clothing, but we still recommend that passengers bring their own warm and waterproof clothes.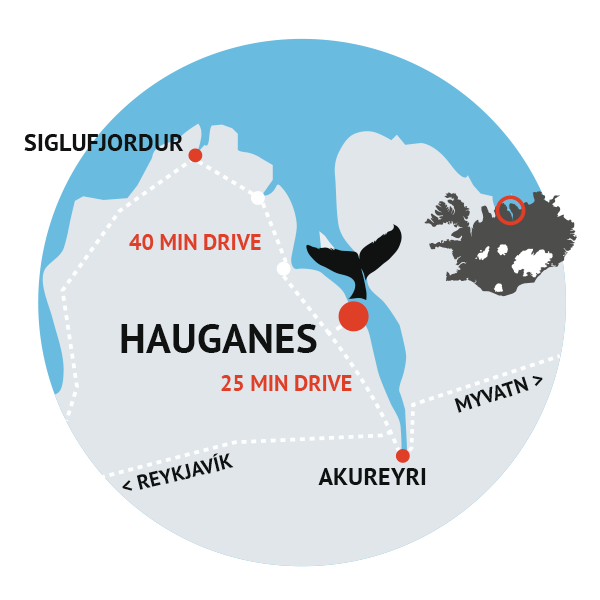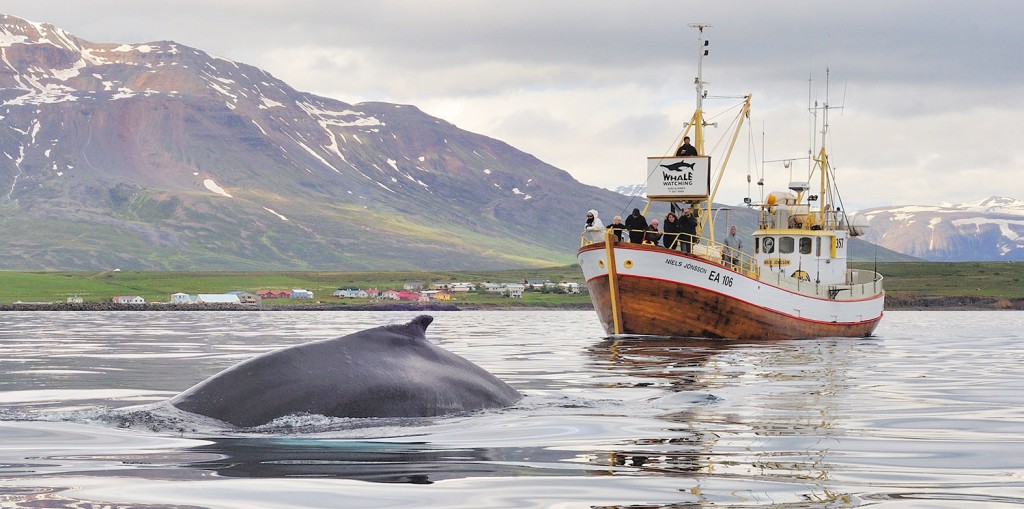 Enjoy the beauty of our whales and what Eyjafjörður fjord has to offer (without the Sea Angling).
Whale watching is our life and joy. We live by the Eyjafjörður bay and are privileged to have all these wonderful creatures swimming in the ocean within reach. We cannot wait for you to meet them. The tours include Whale Watching with whales spotted in all our tours last year.
As we set sail to reach the whales, our guides – who are locals and highly experienced, will make an effort to make you feel as comfortable as possible. You'll receive warm overalls and there are blankets on board. To ensure that the animals are not disturbed by our presence, we sail at a constant speed towards the whales' habitat. As a result, a variety of species, from humpback whales to tiny porpoises, often surface within a few feet of the boat. When we reach the whales we'll make sure not to disturb them with loud noises or sharp movements. Respect for the whales is a key to our tour.
The 100% Whale Watching tour is exactly the same tour as our classic Whale Watching & Sea Angling tour but without the sea angling part at the end of the tour. This way you can enjoy our beautiful whales and fantastic Eyjafjörður fjord even more!