Whale Watching Akureyri, Iceland
Whale watching Akureyri boat tours in Eyjafjörður sailing out from Hauganes. Humpback whales, minke whales, dolphins and porpoises are commonly spotted during these popular Whale Watching Akureyri tours. As Akureyri is the second largest urban area in Iceland and travellers prefer to start their whale watching Tour from Akureyri. Humpback whales are just minutes away. When it comes to whale watching tour from Akureyri is the perfect place to stay and take the 25 minutes drive north to Hauganes. Other tours in the area include river rafting, buggy-tours, fishing, horse tours and hiking. Experience The Eyjafjord Humpbacks whale watching Tours From Akureyri in North Iceland with us.
Incredible humpback whales, dolphins and bird life of the Eyjafjord are breath taking. A place of serene beauty, full of marine life without disturbing them in their natural habitat.
Akureyri is a very popular tourist destination with a wide range of activities and accommodations of all types for a longer or shorter stays. As Akureyri is on the ring road around Iceland the town is well suited for longer stays for those who want to venture into different parts of the area, Siglufjordur and Dalvik to the north, Skagafjordur to the east and Myvatn and Husavik to the east, all in just within a 1.5 hour reach. In our mind these part of Iceland offers a fantastic array of natural wonders, such as high temperature volcanic activities, beautiful waterfalls and major gorges and canyons.
Just 25 minutes south of Hauganes is the capital of North Iceland, Akureyri. This scenic and charming town of about 19.000 inhabitants is situated at the south bottom of Eyjafjörður fjord, the longest fjords in Iceland, and is surrounded by vast and distinctive mountain ridges, with some mountains reaching up to 1.500 meters (4,900 feets) in height. Just 60 kilometers (47 miles) north of Akureyri is the Arctic Circle, but in spite of that the climate in the area is rather mild, with the temperature in the summer reaching up to 25° Celsius (77 degrees Fahrenheit) and the average winter temperatures around 0˚C (32 degrees Fahrenheit).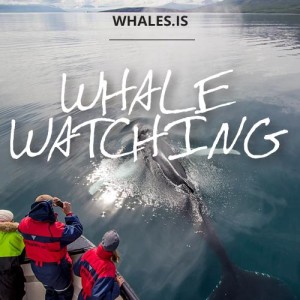 After Reykjavik, the capital of Iceland, Akureyri is the second largest urban area in Iceland and is the main trade and service center in northern Iceland. Akureyri is also full of cultural attractions and is also the center of education in North Iceland with its well established high schools and university.
Book now Whale Watching Akureyri tour from Hauganes!
In Akureyri guests can find a wide variety of recreation and places to see such as museums, the Botanical garden of Akureyri, the most northerly botanical garden in the world. Here one of the most popular swimming pool can also be found, with its massive and unique water slides, hot tubs and saunas for guests of all ages. Try playing golf in the unique midnight summer sun at the 18-hole golf course of Akureyri Golf Club, or slide down the skiing slopes of Hlidarfjall, in most mind the best skiing resort in Iceland. Also, Akureyri is a fantastic area for hikers as there are hiking trails up the mountains around the town.
Our Captain and trained guides are experts at spotting Whales and will explain your all about their behaviours, If you have any question, we assure an answer. Our beautiful Oak Boats are specially modified that you get quicker assocation with whales and cover a bigger area as we search for the wild life. Tourist starting their whale tour from the capital of North Iceland. Whale watching Akureyri safari sailing out from Hauganes.
In Akureyri you will find a plethora of restaurants, ranging from sushi and Argentinian steaks to Indian and vegetarian food. You can also enjoy delicious local food, such as fish and chips and lamb dishes.
Prices
Price: 9.900 ISK per person
4.950 ISK for kids 7-15 years old
Free for kids under 7 years.

Prices include 11% VAT. Included: 2-3 hour guided tour, coffee and refreshments, fishing rods and warm overalls. Our boats have free open WiFi.
We look forward to seeing you on board! – Book now!
Departures in 2017
We have opened for 2017 bookings!
1/5 – 14/5
15/5 -10/6
11/6 – 10/7
11/7 – 25/8
26/8 – 10/9
11/9 – 30/9
1/10 – 31/10

13:30

9:30

13:30

9:30

13:30

18:00

9:30




10:30




13:30




14:30




18:00

9:30

13:30

18:00

9:30

13:30

13:30
Experience Whale Watching Iceland tour on a classic Icelandic oak boat!
Whale Watching incl. 30min Sea Angling
100% Whale Watching
All tours are 2,5-3 hrs long.