Whale Watching Dalvik, Iceland
Just 10 minutes north of Hauganes is the scenic village of Dalvík, at the mouth of Svarfaðardalur valley. Dalvík is an old fishing village and a commercial port for fisheries and goods in the area. Sæfari the ferry that connects the arctic island of Grimsey to the mainland sails from Dalvik, an ideal way to experience the bird life and cliffs of Grimsey and of course to cross the Arctic circle.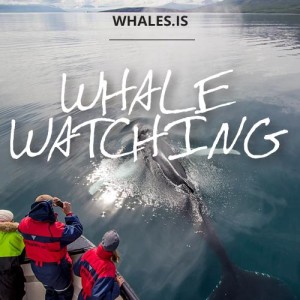 In August every year the great fish fest, Fiskidagurinn Mikli is held where up to 35,000 guests can enjoy free fish dishes from all over Iceland and experience local music and cultural events. This event is sponsored by the Icelandic fishing industry as a way of introducing fish to younger generations and guests of all nationality.
Join us for a Whale Watching Iceland Tour!
In Dalvik you can find one of the best skiing slopes in Iceland, Böggvisstaðafjall, but from Dalvik you can also go hiking, catskiing and even heliskiing. The view from the top of the mountain ridge around Dalvik is unmatched with the view out the fjord, to Grimsey, and over Hrisey island and south Eyjafjordur fjord.
You can also find a geothermal swimming pool in Dalvik, where you can relax in the hot tubs or finish your day's exercise. For golf enthusiasts there is also a 9-hole golf course in Dalvik.
When you come to us for whale watching Dalvik has accommodation that should be booked with advance.
Just 30 minutes north of Dalvík is the old herring capital of Siglufjörður við its herring museum, great ski slopes, coffee houses, camping, guest houses and hotels. 15 minutes north of Dalvik is Ólafsfjörður, an nice little town with good accommodation options, coffee houses and swimming pool.
Humpback whales, minke whales, dolphins and porpoises are commonly spotted during these popular tours.
We look forward to seeing you on board! – Book now!
Departures in 2018
You can book your 2018 tour now!
20/4 – 4/5
15/5 -31/5
1/6 – 30/6
1/7 – 25/8
26/8 – 10/9
11/9 – 10/10
11/10 – 20/11

13:30

9:30

13:30

9:30

13:30

17:00

9:30




10:30




13:30




14:30




17:00

9:30

13:30

17:00

9:30

13:30

13:30
Join us now for a Whale Watching Iceland tour on a classic Icelandic OAK boat!
Whale Watching incl. 30min Sea Angling
100% Whale Watching
All tours are 2,5-3 hrs long.